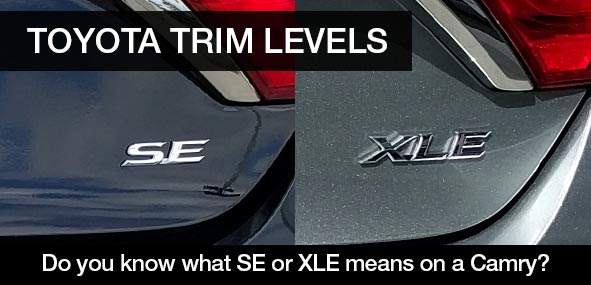 Finding a brand-new Toyota should be fun and exciting experience for car shoppers and often is. But sometimes buyers have misunderstanding about their Toyota. Such as "Why I am I paying $320 a month for my Corolla, but my friend is paying $229 for the same year and model of his/her Corolla?" or "My friend is impress with the moon roof on my Camry but doesn't know why his/her Camry lacks one". At Northridge Toyota, we understand your frustration and want to help.
One of the answers to all these questions are the Trim Levels (also don't forget credit score plays a factor).
In order for us give to give you a variety of options with each model, most Toyota vehicles offer multiple trim levels. Such as Corolla L, Corolla LE, Corolla SE, Corolla S, Corolla XSE.
What does all those Acronyms even mean?
Have you ever wonder what each trim level acronym mean? Then you are in the right place. Each trim level is an acronym that indicates its standing in the lineup. A good thing to remember when exploring the multitude of Toyota trim level acronyms is that they often build on the previous trim level. We can definitely help you understand how each model organizes its trim levels a little better. First lets review some of designations below, before we get into specific popular Toyota models here at Northridge Toyota.
Toyota Model Acronyms
| | |
| --- | --- |
| CE | Classic Edition |
| DX | Deluxe |
| L | Entry-Level |
| LE | Luxury Edition |
| S | Sport |
| SE | Sport Edition |
| SLE | Sport Luxury Edition |
| SR | Sport Rally |
| SR5 | Sport Rally 5-Speed |
| VE | Value Edition |
| XL | Executive Luxury |
| XLE | Executive Luxury Edition |
| XLS | Executive Luxury Sport |
| XR | Extreme Rally |
| XRS | Extreme Rally Sport |
| Limited | Luxury Grade |
| Trail | Trail Rated Edition |
| TRD | Toyota Racing Development |

Corolla L ("Entry Level") basic steering wheel vs Corolla SE ("Sport Edition") leather stitch steering wheel.

Different trim can mean a more valuable vehicle and a more comfortable ride; Such as Tacoma SR vs Tacoma SR5 dashboard.

Same make, model and year. But trim levels also plays a big part in its overall value. Such as one person paying a certain amount for a lower level trim versus another who pays more for additional luxurious features on a higher trim.
Trim Level Designations Options Of Each Popular Toyota Models
2017 Toyota Corolla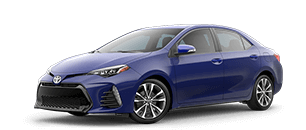 Base Model to High End Trim Levels
L
LE
LE ECO
SE
XLE
50th Anniv. Special Edition
XSE
2017 Toyota Camry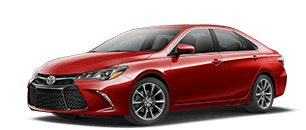 Base Model to High End Trim Levels
2017 Toyota Tacoma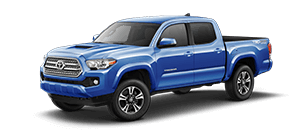 Base Model to High End Trim Levels
SR
SR5
TRD Sport
TRD Off Road
Limited
TRD Pro
2017 Toyota Tundra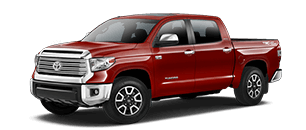 Base Model to High End Trim Levels
SR
SR5
Limited
Plantinum
1794 Edition
TRD Pro
2017 Toyota Rav4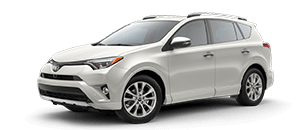 Base Model to High End Trim Levels.
LE
XLE
SE
Limited
Plantinum
2017 Toyota Highlander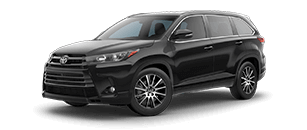 Base Model to High End Trim Levels
LE
LE Plus
XLE
SE
Limited
Toyota Models With One Trim Option
Currently, there are four Toyota models that have only one trim option. The Toyota 86, Corolla iM, Land Cruiser, and Yaris iA each come in one grade, although you can opt for additional packages if they so desire.

Example of Toyota 86 at Northridge Toyota, only one trim option but can opt for the TRD sports package.
Toyota Prius Trim Levels
The Toyota Prius, Prius c, and Prius v also do not follow the typical Toyota trim levels. Instead, they are labeled with numbers–One, Two, Three, and Four–to signify their place in the model lineup.
We hope this quick overview of Toyota trim levels has proven helpful when you explore the Northridge Toyota inventory for your next vehicle. If you have any more questions about — what are the different Toyota trim levels — we will be more than happy to help. Because buying a new car is a big decision, so make sure that you know what features you're looking for and what you need most in a vehicle. Contact our sales team at Northridge Toyota with any questions you may have about specific models, trim levels or features. Rememner Northridge Toyota Is Your Neighborhood Toyota Dealer, more than 40 years we proudly served Porter Ranch, Chatsworth, Winnetka, Reseda, Lake Balboa, Canoga Park, West Hills, Mission Hills and the rest of the San Fernando Valley.
Feeling Confident? Go Check Out Our Inventory