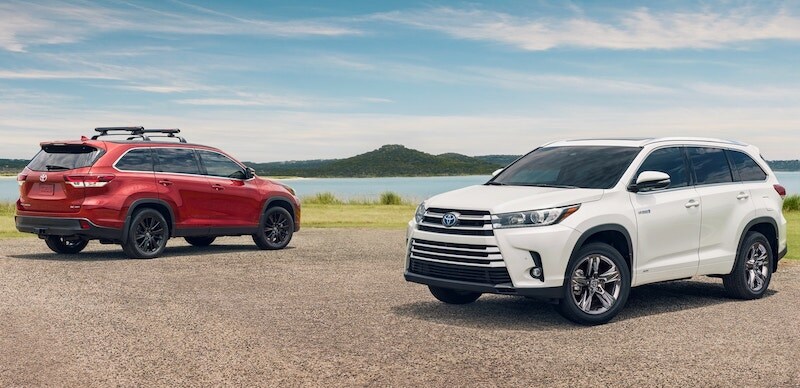 A lot of people buy SUVs for how they look, or for the high vantage point. But some of you out there really do need them for what they're made for: Hauling, climbing, and roughing it.
The 2019 Toyota Highlander isn't just a handsome vehicle-it's also a capable towing machine with off-road capability.
2019 Toyota Highlander Towing Capability
The 2019 Toyota Highlander can tow up to 5,000 pounds. That's on the V6-equipped LE Plus, XLE, SE, and Limited models. The base front-wheel drive LE, with its 2.7-liter four-cylinder engine, can pull up to 1,500 pounds, while the Hybrid LE, Hybrid XLE, and Hybrid Limited can haul up to 3,500.
That means any Highlander you choose can tow--and the Hybrid editions can do so surprisingly well--but if you've got a boat or small camper to pull, you'll want to opt for one of the powerful 295 horsepower V6 options.
2019 Toyota Highlander Off-Road
Every trim level offers available dynamic torque-control all-wheel drive, making it well-suited for even the toughest terrain. Electric On-Demand AWD can also be toggled, so you can engage it when you really need it and save on gas when you don't.
Plus, the 2019 Highlander has a standard 8 inches of ground clearance, meaning you'll have the room to pass most small obstacles if you decide to do some light off-roading. Of course, the more weight you have in the vehicle will decrease both its towing capacity and its ground clearance, so think about your cargo and passenger load before you hitch on a trailer or hit the gravel path.
If you're looking for an SUV that can handle city, suburb, or back road, then odds are you're looking for a 2019 Toyota Highlander. Give your Chatsworth area Toyota dealer, Northridge Toyota, a visit today for a test drive--and never hesitate to contact us online or give us a call at 833-836-5765 if you have any questions.