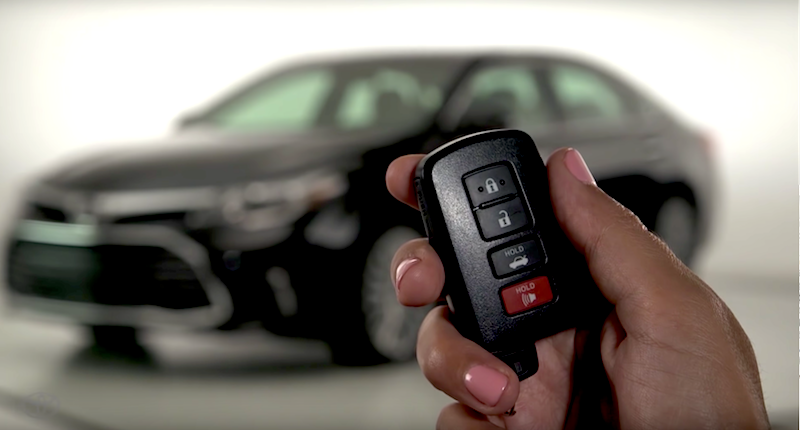 Modern technology is great--but nothing is perfect. Sometimes, even your convenient and trusty Toyota Smart Key will decide not to work, which can cause some major headaches. Here's what to do if you're struggling to get your car open or started.
Toyota Smart Key Problems
Often times, your problem will be the result of a dead battery. If the remote key isn't giving off a strong signal, your Toyota won't be able to sense that it's near and unlock the doors for you like you're used to. Fortunately, the Smart Key system contains a traditional manual key. Press the button on the left side of the Smart Key to release the standard metal key, and unlock the driver door by hand like old times.
Starting Your Toyota with a Weak Battery Signal
Even with a faint signal, you can often still get the engine going. When pressing down the brake pedal and depressing the start button, hold the Smart Key remote as close to the start button as possible. This should get your Toyota started, but don't try to pull this off too many times before replacing the battery.
Replacing Toyota Smart Key Battery
Fortunately, changing the battery in your Toyota Smart Key is easy. Just pop the manual key out, and then insert the tip of the key into its storage slot and gently turn it to pop the remote's casing open. This will expose the battery, which you can then easily replace. The Toyota Smart Key uses type CR2032 lithium batteries.
Toyota Smart Key Assistance and Replacement Near Reseda
For problems that can't be fixed with a battery replacement--like a broken Smart Key or car sensors--visit our Reseda area Toyota service center. And if you've lost your Smart Key, don't worry: Our parts department is here to help get a new one in your hands and get you back on the road.