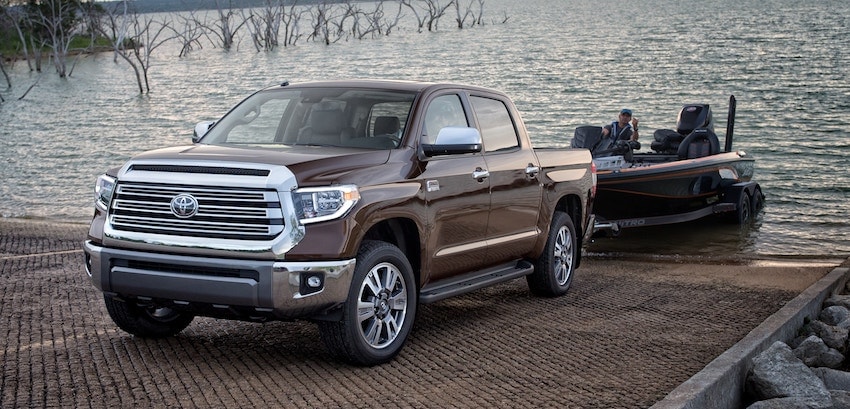 The 2019 Toyota Tundra is a gorgeous truck, and here at our Reseda area dealer, we'd forgive you for buying it based off its looks and amenities alone. But don't be fooled by sharp lines and great features: This truck was built to work, and it can really tow. How much, you ask? Between 6,800 and 10,100 pounds, depending on the trim level. Take a look:
2019 Toyota Tundra SR5 - 6,800lb max towing capacity
2019 Toyota Tundra Platinum - 9,400lb max towing capacity
2019 Toyota Tundra Limited - 10,100lb max towing capacity
That's more than enough muscle for both work and leisure. So whether you're hauling the camper up from Reseda to the mountains for a weekend with the family, hauling your equipment to another worksite, or just helping a friend move all that furniture to a new neighborhood, there's a 2019 Tundra with the pulling power you need.
How Much Can I Really Tow?
It's important, of course, to be safe when towing. Always leave a buffer between the weight you're towing and the max towing capacity: If you have a 6,700lb trailer, you may want to opt for the more powerful Tundra Platinum rather than going to the very limits of the SR5's max towing capacity. Passengers and other cargo in the truck bed also count against a truck's weight capacity, so keep in mind who and what you're riding with before latching on that trailer.
Other factors, like weather conditions and road grade, can affect how much power your truck needs in a given situation, and you always want to have power to spare just in case.
A Tundra for Your Reseda Lifestyle
Picturing yourself in a sturdy and capable new Toyota truck? Our Toyota dealership serving Reseda can help make that scene a reality. Give us a call at 833-836-5765, or contact us online to set up a test drive. We've been serving the region for more than 40 years, and our experienced staff are ready to show you what a Tundra can offer. Whether you're after an SR5, Platinum, or Limited, you'll be getting a whole lot of truck.